Col Ted Richard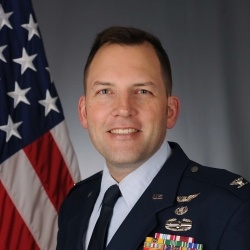 Col
Ted
Richard
Guest Author
Col Ted Richard serves as the Staff Judge Advocate at the 86th Airlift Wing Legal Office, Ramstein Air Base, Germany. In that capacity, he leads a staff of 50 attorneys, paralegals, and civilian personnel in support of four wing commanders, with over 90 groups, squadrons, and other units. His office supports a population of 66,000 eligible beneficiaries across Europe.
This is Col Richard's third assignment as a Staff Judge Advocate. Previous assignments include the Legal Advisor to the U.S. Central Command's Combined Air Operations Center at Al Udeid and to the 603rd Air Operations Center at Ramstein. He was the Chief of Operations Law and Deputy Staff Judge Advocate at U.S. Strategic Command and served as the Chief of Contracts and Fiscal Law for Combined Joint Task Force 101 in Afghanistan. Col Richard has also been assigned as an executive officer, contracts litigation attorney, civil trial attorney, and Area Defense Counsel. He spent over 10 years as an enlisted helicopter crew chief in the Wisconsin Army National Guard prior to his 2001 commissioning in the United States Air Force.
Col Richard received a B.S. in Biochemistry, Molecular Biology and English from the University of Wisconsin – Madison, and later earned a J.D. from the same university. He also holds an LL.M. in Government Procurement from George Washington University. He published the Unofficial United States Guide to the First Additional Protocol to the Geneva Conventions of 12 August 1949, as well as other articles on a variety of topics.
Articles of War Posts
---