Cdr Martin Fink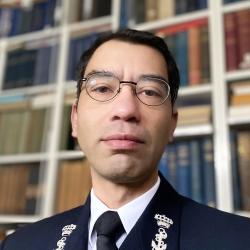 Cdr
Martin
Fink
Guest Author
Commander Dr. Martin Fink is a legal advisor in the Royal Netherlands Navy and research fellow at the Royal Netherland Defence Academy. He currently holds the position of Head of Legal Affairs of the Royal Marechaussee.
He has held a number of legal positions in the Netherlands Armed Forces and NATO at Joint Forces Command Naples, Italy. He deployed in several operations among which were Iraq, Afghanistan (twice), the UN mission in South-Sudan and Israel and the Palestinian Territories. His main legal research interests are the law of naval warfare, the law of the sea, and military law.
Commander Fink holds an LL.M. from the University of Leiden. He received his PhD from the University of Amsterdam.
Articles of War Posts
---