Maj Inna Zavorotko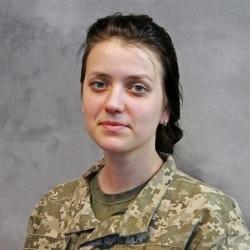 Maj
Inna
Zavorotko
Guest Author
Inna Zavorotko is a major in the Armed Forces of Ukraine. She currently serves in the Legal Department of the Ministry of Defense. Her focus areas include the law of armed conflict, international crimes, and gender perspective in armed conflict.
Before joining the Legal Department of the Ministry of Defense, Major Zavorotko served as a Legal Advisor in a number of positions from brigade to the General Staff of the Armed Forces of Ukraine advising commanders on international, administrative, and criminal law issues. Her combat experience and deployments include serving in the Joint Forces Operation HQ (Ukraine) and the United Nations Organization Stabilization Mission in Democratic Republic of the Congo.
Major Zavorotko holds a Master's degree in Law from the Yaroslav Mudryi National Law University and a Bachelor's degree in Journalism and information from the V.N. Karazin Kharkiv National University. Inna Zavorotko also has a Ph.D. in the International Law from National University of Kyiv-Mohyla Academy.
Articles of War Posts
---