Time for a New War Crimes Commission?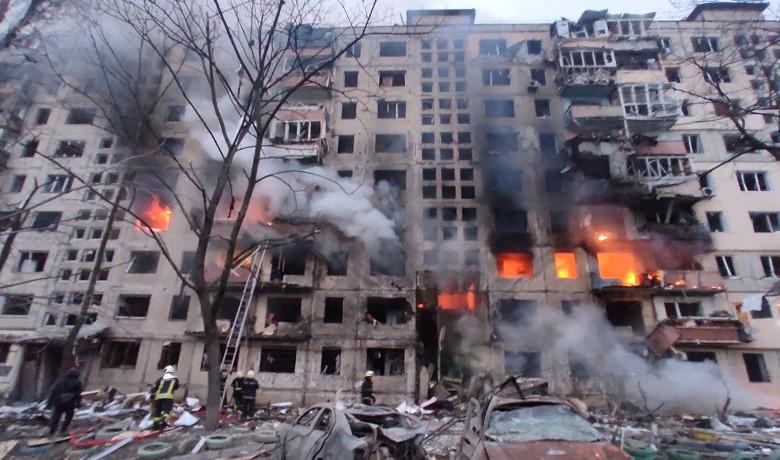 The shock of invasion remains fresh and raw. And yet it must cede room for new shocks, for the quotidian tremors caused by reports that Russian troops have shelled homes and maternity hospitals, dropped cluster bombs on schools, seized nuclear plants, and forced more than 3 million Ukrainians to flee. This war is less than a month old, and yet already its criminality cries out for investigation, prosecution, and punishment of all responsible.
An Accountability Gap
The International Criminal Court (ICC) is doing its part. But the ICC's Rome Statute limits its reach in Ukraine-Russia, and its global docket limits the attention it can devote solely to that conflict. The same is true of the International Court of Justice and the European Court of Human Rights. Both have issued preliminary rulings instructing Russia to fulfill obligations it assumed by joining the 1948 Convention on the Prevention and Punishment of the Crime of Genocide and the 1950 Convention for the Protection of Human Rights and Fundamental Freedoms. But Russia has just been expelled from the organization of which the latter court is a part, and in any event neither of these courts has power to punish an individual for commission of an international crime.
In short, a criminal justice accountability gap looms large. Already this has prompted an array of gap-filling proposals, among them establishing a brand-new special tribunal (here and here) and amending the ICC statute. I would add another: the U.S. Senate, whose members on Tuesday unanimously approved a resolution welcoming "the ICC or other appropriate international tribunal to take any appropriate steps to investigate war crimes and crimes against humanity"—albeit only crimes by the Russian side—could do far more good by giving its advice and consent to the Rome Statute so that the United States finally could become a full and unequivocal supporter of the court.
All those proposals require time to implement, however. Now and going forward, accountability could be enhanced by setting up a clearinghouse for gathering, cataloging, and preserving evidence, with an aim to eventual prosecutions in multiple national, regional, and international systems. The idea is not new; indeed, a useful model may be found in a Second World War-era institution known as the United Nations War Crimes Commission (UNWCC).
A Special Need, A Special Approach
Before proceeding to explore the UNWCC model's potential utility, it is necessary to address why there is a special need in this conflict for a coordinated, comprehensive criminal justice response.
On February 24, 2022, a permanent member of the United Nations Security Council, acting without any plausible pretense of legal justification, ordered its own national army to launch a full-on invasion of another UN member. This makes the Ukraine-Russia conflict different from all others in the UN's 77-year history. (I say this as one who believes that the Iraq invasion was illegal—and yet that it was different from Russia's invasion, both because it was bottomed on a web of legal arguments seeking to justify it, and because it was pursued by a coalition of many member states of the United Nations.) The P-5 member's unprecedented act of apparent aggression—in UN Charter terms, Russia's "use of force against the territorial integrity" and "political independence of" Ukraine, in a "manner inconsistent with the Purposes of the United Nations"—pushed past a line so stark, so fundamental to the post-Second World War order, that institutions within that order have no choice but to push back.
The UNWCC (1943-48)
One precedent for such a clearinghouse came into being in London in October 1943, a year after President Franklin D. Roosevelt announced that the United States would "cooperate with the British and other Governments in establishing a United Nations Commission for the Investigation of War Crimes." The commission's establishment was the result, Daniel Marc Segesser wrote in a 2004 chapter, of the insistence by Polish and Czech governments—forced into exile by Nazi aggression—on accountability for the crimes of the world war then still raging. As described in a 2018 Leiden doctoral thesis by Catherine E.M. Harwood:
The Commission had three committees with different functions. Committee I (Facts and Evidence) examined charges submitted by national offices; Committee II (Enforcement) was concerned with measures to ensure the apprehension, trial and punishment of war criminals while Committee III (Legal) advised on issues of international law. (p. 22)
Commissioners—among them René Cassin, Lord Wright, Herbert Pell, and Wellington Koo—assigned the task of actual investigation to States within a group of seventeen Allied powers, and then reviewed this work and reported back to States. The commission was by no means perfect: it faced collective-action challenges, as Narelle Morris and Aden Knaap have explained, and it did not address Allied crimes. But its output was impressive. By the time it closed shop in 1948, the UNWCC had considered information regarding tens of thousands of individuals. Operating in parallel to the well-known postwar trials of high-ranking accused at Nuremberg, the commission made possible thousands of trials of persons of lower rank, held in the Allies' zones of occupation and in the courts of countries on whose territory crimes had occurred.
Justice for the Crimes of War in the Ukraine-Russia Conflict
Even if aggression had been the only crime committed in Russia's invasion of Ukraine, that alone would compel pushback by international justice institutions. As is well known, however, the crime of starting an illegal war soon was followed by crimes within war: seizures of territory, indiscriminate attacks on civilians, violent closures of humanitarian corridors, and naval blockades of supposed-to-be-open ports. It is high time for a concerted global effort to assure accountability for all of these crimes, against as many perpetrators and on behalf of as many victims as possible.
The ICC will be crucial to accountability, and Prosecutor Karim Khan QC deserves kudos for swift action: opening an ICC investigation into the Situation in Ukraine amid 41 referrals by States parties; launching a portal where information can be provided; and making an official visits to Ukraine and Poland. But the ICC's work will have to be supplemented by the work of others:
• First, as Khan himself has said, the ICC cannot adjudicate the criminality that spawned this war; that is, the crime of aggression. Although Ukraine has accepted the Court's jurisdiction over alleged crimes committed on its territory since November 2013, because neither Ukraine nor Russia is an ICC State party, the court's statute precludes it from prosecuting charges of aggression. It is for that reason that calls for a special tribunal on aggression deserve serious consideration.
• Second, the ICC's foundational principle of complementarity invites a multiplicity of justice efforts. The principle recognizes the power and duty of States to prosecute crimes, not to mention the budgetary and personnel constraints of a permanent, global court. Some States thus might choose to act if a person suspected of Ukraine-Russia war crimes were to seek refuge in their country, just as Germany recently has tried some Syrians in its courts, on charges of war crimes in Syria. Complementarity also requires the ICC to yield when a national system with jurisdiction is willing and able to mount its own prosecution; enabling Ukraine to lead prosecutions for crimes committed against its land and its people would constitute a profound repudiation of Russia's attempt to erase Ukraine's sovereignty.
Simultaneous pursuit of these different avenues could promote the investigation and prosecution of persons accused at all levels, rank-and-file as well as rear admirals. But it will require consultation and exchange of information among a number of national, regional, and international systems. The collection and evaluation of evidence will benefit from cooperation. There likewise may be efficiency in coordinated trainings, on issues as varied as case construction, state-of-the-art investigative techniques, and contemporary standards on working with vulnerable witnesses.
The ICC cannot be expected to take on all these functions for all potential criminal justice forums, any more than a new tribunal on aggression could be expected to build capacity beyond its immediate needs. Nongovernmental organizations at times have stepped in to bridge prior gaps in training or investigation. But in this instance less fragmentation, more coordination, will be required if comprehensive accountability is to be achieved. As presaged in a 2014 special issue of Criminal Law Forum and a 2018 International Bar Association War Crimes Committee report, the UNWCC experience suggests a way forward. A new multilateral War Crimes Commission—one that investigates all sides of the Ukraine-Russia conflict—could fill the bill.
This is not to say that the international community must create an entirely new institution, although that is one possible way to achieve this goal. It might instead choose to add the evidence-gathering and capacity-building functions of the old UNWCC to the mandate of an institution that already exists—or of one that soon will come into being, such as the Commission of Inquiry just established by the UN Human Rights Council. Names are not essential. But the core function is: specifically, the conduct of investigations aimed at preserving evidence and facilitating criminal prosecutions of suspects at all levels, for all potential offenses, and before any number of national, regional, and international systems willing and able to afford the persons they accuse a full and fair trial.
***
Diane Marie Amann is Regents' Professor of International Law, Emily & Ernest Woodruff Chair in International Law, and Faculty Co-Director of the Dean Rusk International Law Center at the University of Georgia School of Law.
RELATED POSTS
​​​​​​​​​Symposium Intro: Ukraine-Russia Armed Conflict
by Sean Watts, Winston Williams, Ronald Alcala
February 28, 2022
–
Russia's "Special Military Operation" and the (Claimed) Right of Self-Defense
February 28, 2022
–
Legal Status of Ukraine's Resistance Forces
by Ronald Alcala and Steve Szymanski
February 28, 2022
–
Cluster Munitions and the Ukraine War
February 28, 2022
–
Neutrality in the War against Ukraine
by Wolff Heintschel von Heinegg
March 1, 2022
–
The Russia-Ukraine War and the European Convention on Human Rights
March 1, 2022
–
Deefake Technology in the Age of Information Warfare
by Hitoshi Nasu
March 1, 2022
–
Ukraine and the Defender's Obligations
by Eric Jensen
March 2, 2022
–
Are Molotov Cocktails Lawful Weapons?
by Sean Watts
March 2, 2022
–
Application of IHL by and to Proxies: The "Republics" of Donetsk and Luhansk
March 3, 2022
–
Closing the Turkish Straits in Times of War
March 3, 2020
–
March 3, 2022
–
Prisoners of War in Occupied Territory
by Geoff Corn
March 3, 2022
–
Combatant Privileges and Protections
March 4, 2022
–
by Sean Watts
March 4, 2022
–
Russia's Illegal Invasion of Ukraine & the Role of International Law
March 4, 2022
–
Russian Troops Out of Uniform and Prisoner of War Status
by  Chris Koschnitzky and Michael N. Schmitt
March 4, 2022
–
March 5, 2022
–
Providing Arms and Materiel to Ukraine: Neutrality, Co-belligerency, and the Use of Force
March 7, 2022
–
Keeping the Ukraine-Russia Jus ad Bellum and Jus in Bello Issues Separate
March 7, 2022
–
The Other Side of Civilian Protection: The 1949 Fourth Geneva Convention
by Jelena Pejic
March 7, 2022
–
Special Forces, Unprivileged Belligerency, and the War in the Shadows
by Ken Watkin
March 8, 2022
–
Accountability and Ukraine: Hurdles to Prosecuting War Crimes and Aggression
March 9, 2022
–
Remarks on the Law Relating to the Use of Force in the Ukraine Conflict
March 9, 2022
–
Consistency and Change in Russian Approaches to International Law
by Jeffrey Kahn
March 9, 2022
–
The Fog of War, Civilian Resistance, and the Soft Underbelly of Unprivileged Belligerency
by Gary Corn
March 10, 2022
–
Common Article 1 and the Conflict in Ukraine
March 10, 2022
–
Levée en Masse in Ukraine: Applications, Implications, and Open Questions
by David Wallace and Shane Reeves
March 11, 2022
–
The Attack at the Zaporizhzhia Nuclear Plant and Additional Protocol I
March 13, 2022
–
The Russia-Ukraine War and the Space Domain
by Timothy Goines, Jeffrey Biller, Jeremy Grunert
March 14, 2022
–
Fact-finding in Ukraine: Can Anything Be Learned from Yemen?
March 14, 2022
–
Status of Foreign Fighters in the Ukrainian Legion
by Petra Ditrichová and Veronika Bílková
March 15, 2022
–
Law Applicable to Persons Fleeing Armed Conflicts
March 15, 2022
–
March 17, 2022
–
The ICJ's Provisional Measures Order: Unprecedented
by Ori Pomson
March 17, 2022
–
Displacement from Conflict: Old Realities, New Protections?
by Ruvi Ziegler
March 17, 2022
– 
A No-Fly Zone Over Ukraine and International Law
March 18, 2022