Ukraine Symposium – What's in a Name? Getting it Right for the Naval "Drone" Attack on Sevastopol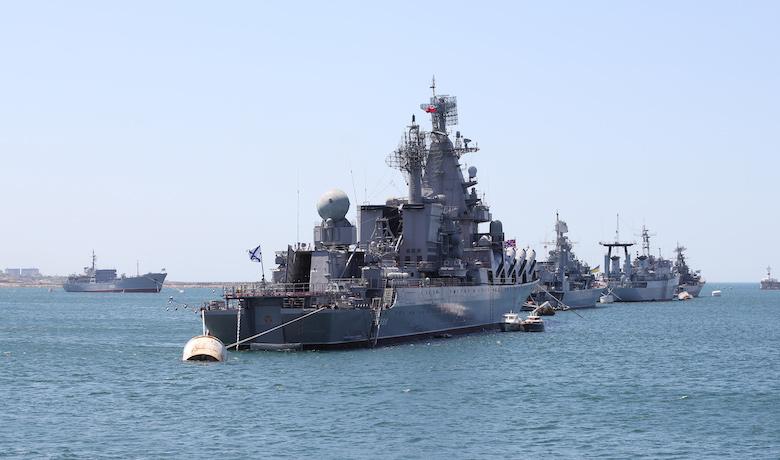 Editors' Note: As part of our 2023 Year Ahead series, our Board of Advisors member Prof. Dr. Wolff Heintschel von Heinegg presciently identified legal issues concerning maritime drones as a subject to watch this year. It did not take long for the field to respond. Our next two posts, by UK and US naval officers respectively, address the subject in detail. Our compliments to both and to Prof. Dr. von Heinegg.
---
On October 29, 2022, various media outlets around the world were full of pictures and grainy footage of an attack on the Russian Black Sea Fleet in Sevastopol using a combination of unmanned maritime and air assets. Described by a former Ukrainian Navy Captain as "having no equivalent in the history of naval warcraft," the attack resulted in significant damage to Russian warships and vessels, notably Admiral Makarov, the Black Sea Fleet Flagship. The headlines, however, were almost as confusing and blurred as some of the footage, in particular when it came to referring to the maritime assets which were used for the attacks. These assets were often referred to as "drones," but also as "uncrewed surface vessels," "low tech boats," or "unmanned vehicles"; the most colourful description being "a cross between a canoe and a jetski." The use of several terms highlights the ongoing debate regarding the use of remote controlled and autonomous maritime systems, namely: what do we call them?
From the legal perspective, such descriptions, and the terms used for them, matter. As this post explains, each term carries with it legal implications, which in turn will determine how these assets may be lawfully used. There really are two viable options, depending on whether maritime assets are employed under the UN Convention on the Law of the Sea (UNCLOS) for a peacetime construct or in the context of the Law of Naval Warfare. Either these "drones" are a piece of equipment – which includes such terms as weapon, device, vehicles, or even boat. Or they are vessels. A vessel cannot also be a piece of equipment, and vice versa. Of note, in the English version of UNCLOS both "ship" and "vessel" are used (as opposed to the French version which only uses the word navire) and are therefore considered synonymous.
Option 1: Equipment (including the terms vehicle, device, weapon system, drone)
While there is no definition of "drone," "vehicle," or indeed "device" in international maritime law, these terms are often used to refer to systems with an autonomous capability. The references to such "equipment" are limited in UNCLOS, mainly in the context of marine scientific research. However, what can be gleaned from UNCLOS and supporting treaties is that a vessel enjoys the legal status to operate independently, whereas equipment such as a "device" is subsidiary to and distinguishable from a vessel (see, for example, Article 209 of UNCLOS), often as an object to be "launched" or "landed" (Article 19(1)(f) of UNCLOS).
A commonly used example of equipment would be the gliders operated by both the US Navy and UK Royal Navy, often for military data gathering purposes, and in the case of the US Navy, infamously seized by the PLA(N) in the South China Sea. Provided the equipment is being used in exclusively governmental non-commercial purposes, then the operating State can claim sovereign immunity under customary international law. The United States indeed claimed that the glider seized was a piece of sovereign immune equipment, and ultimately this led to the return of the glider.
However, in the Black Sea, these items are being operated in a time of conflict to achieve a kinetic effect. The concept of using weapons systems which are driven through the water towards an enemy target is not new. Up until 1808, for example, the UK Royal Navy had "fire ships" as a designated class of ship in the Fleet: old merchant ships bought by the government, set on fire and sent off (hopefully) in the direction of the enemy. Torpedoes are the more modern example often cited, so are naval mines. If these assets are to be used as weapons systems, several legal obligations result, primarily before use and then during use.
In the before category, if the maritime asset is a new weapon, or at least a revised means or method of warfare, Ukraine as a party to Additional Protocol I to the Geneva Conventions must conduct a weapon review under Article 36. According to this provision, any new means or method of warfare should not be "prohibited by this protocol" or "any other rule of international law" applicable to that party. Ukraine is a signatory to a number of international treaties prohibiting different types of weapons, such as the Chemical Weapons Convention, and the Anti-Personnel Land Mine Convention. As a specific maritime example, while Ukraine is not a signatory to the 1907 Hague Convention VIII, its provisions are considered binding as a matter of customary international law. Therefore, Ukraine must ensure that ifthese assets were to be labelled as torpedoes, they must become harmless if they miss their mark (Article 1(3)). Alternatively, if the assets were a form of automatic contact mine, then they too must become harmless at most one hour after they are no longer under control (Article 1(1)).
During use, regardless of the classification of weapon system (mine, torpedo, missile or other), the weapon system must be deployed against a lawful target in accordance with the Law of Naval Warfare. While this legal regime is not governed directly by Additional Protocol I, conduct of hostilities rules (Article 49(3) of Additional Protocol I), it is widely accepted that customary law counterparts of the rules do apply at sea (San Remo Manual).
It is not known the extent to which the payload being deployed by these assets was, in itself, autonomous. The law surrounding the use of Lethal Autonomous Weapons Systems (LAWS) is also subject to intense debate, but one which is separate to that on the debate regarding the nomenclature of autonomous maritime systems. It is also still a developing area, but consensus from the UN Group of Experts is that there is a requirement for human involvement in the decision making process. Regarding the events at Sevastopol, it has been commented, "these drones are under the direct, precise control of their operator right up until the moment of impact."  This would indicate that a human was heavily involved in the decision-making process, up until the moment the explosive was detonated.
Option 2: vessels
There are three specific reasons why use of the word "vessel" has important legal implications – and although the debate here arises out of an event in armed conflict, UNCLOS is the initial guiding reference for three reasons.
The first reason is the freedom of navigation. UNCLOS states that all ships or vessels have the right to the freedom of navigation, including innocent passage, transit passage, and archipelagic innocent passage and archipelagic sea lane passage (Articles 17, 38, 52, 53). Therefore, if a State wishes to exercise the freedom of navigation rights with an autonomous system, it needs to be formally classified as a vessel or a ship.
The second reason is sovereign immunity. UNCLOS Articles 32, 95, 96 provide that warships and government vessels on non-commercial service have the privilege of sovereign immunity. Therefore, such ships or vessels are protected from other States trying to exert their jurisdiction on them – either in territorial waters or out on the high seas. It also means that should the sovereign vessel sink, then the wreck is also protected and cannot be tampered with, unless express permission is given. Both the first and second reasons are of interest when operating in peacetime.
Finally, and noting the context in which this post is written, we turn to the Law of Naval Warfare. As a matter of customary international law, only warships have belligerent rights. There is no defined list of these rights, but as identified by the San Remo Manual, they broadly cover: kinetic strike; visit board search and seizure (VBSS); laying mines; amphibious operations against enemy held coast; and blockade enforcement.
For those three legal privileges to apply, an asset must be classified as a vessel. There is no single definition of vessel and this author has counted at least thirteen different definitions in international law. By way of example, International Regulations for Preventing Collisions at Sea, Rule 5 defines a vessel as, "every description of water craft, including non-displacement craft, Wing-In-Ground craft and seaplanes, used or capable of being used as a means of transportation on water." The International Convention for the Prevention of Pollution from Ships, Article 2(4) defines a "ship" as "a vessel of any type whatsoever operating in the marine environment and includes hydrofoil boats, air-cushion vehicles, submersibles, floating craft, and fixed and floating platforms." In the 2005 Convention on Suppression of Unlawful Acts at Sea, Article 1(1)(a) a ship is "a vessel of any type whatsoever not permanently attached to the sea-bed, including dynamically supported craft, submersibles, or any other floating craft". UK domestic law has perhaps tried to encapsulate all of these. Section 313 Merchant Shipping Act 1995 states that a "ship" includes "every description of vessel used in navigation." For the purposes of this post, suffice to say that States are taking a flexible approach to the definition, and as one example, the UK Royal Navy (see chapter 6) has 23 different "vessels" on its Defence Shipping Register, all of varying descriptions and uses.
If the assets used in the Black Sea were vessels, Ukraine would have two further options. The vessels would either be classed as government vessels on non-commercial service, or as warships. UNCLOS does not define "government ships operated for non-commercial purposes," but from a military perspective the term is often synonymous with "auxiliary." The San Remo Manual defines auxiliary vessels as, "a vessel, other than a warship, that is owned by or under the exclusive control of the armed forces of a State and used for the time being on government non-commercial service" (page 9). Being classed as an auxiliary would allow for the ability to claim freedom of navigation rights and sovereign immunity, but not, noting how the assets were used in this context, to cause damage in the exercise of belligerent rights.
As yet, no State has openly declared an autonomous maritime vessel as a warship. Article 29 of UNCLOS defines a warship as follows:
For the purposes of this Convention, "warship" means a ship belonging to the armed forces of a State bearing the external marks distinguishing such ships of its nationality, under the command of an officer duly commissioned by the government of the State and whose name appears in the appropriate service list or its equivalent and manned by a crew which is under regular armed forces discipline.
The requirement for a commissioned officer in command and a crew has led to some discussion as to whether it is possible to have an autonomous, or unmanned, warship. The United Kingdom and the United States (para 2.3.5) have both made public assertions that it is possible to have an autonomous maritime asset as a warship and still meet the requirements of Article 29. In the case of the United Kingdom, the arguments to support this contention can be summarised as:
1. State Responsibility. The intent of Article 29 is to confirm state responsibility for the actions of warships and requires that the State has an accountable system of discipline to control the actions of those who operate them. This is achieved through the crew subject to service discipline and the commissioned officer in command, even if ashore at the time of operation.
2. The principle of distinction under the Law of Armed Conflict. The wording of Article 29 is a direct lift from a treaty governing activities in armed conflict, namely 1907 Hague Convention VII regarding the conversion of merchant ships to warships. By ensuring the crew and commanding officer are both in the Armed Forces, that means any belligerent action taken by the autonomous warship is conducted by lawful combatants.
3. Therefore, provided the commanding officer and crew are accountable for the actions of the autonomous warship, in the same way as applies to warships currently, then they can be ashore, rather than onboard. Clearly, for Article 29 to have effect, the commanding officer would still need to be a commissioned officer, and the crew would be serving members of the Royal Navy.
Concluding thoughts
To conduct the attack in Sevastopol on the Russian Black Sea Fleet lawfully, the operators did not require full navigational rights as provided for under UNCLOS. They were operating as a Party to a conflict, in their own territorial seas, under the regime of the Law of Naval Warfare. The operators did require the ability, in law, to act in a belligerent manner – something which can be achieved either by classing the assets used as weapons/pieces of equipment, or by registering them as autonomous warships on the respective national register.
It is early days and there is no evidence of State practice regarding autonomous warships, yet. However, the statements made by the United Kingdom and the United States arguably provide an opening for Ukraine to do the same should they wish or need to. In the absence of such a step being taken, the "cross between a canoe and a jetski" should be viewed as a State-operated piece of equipment or weapon system. They should not be referred to as vessels.
The opinions and assertions expressed in this article are those of the author and do not necessarily reflect the official policy or position of His Majesty's Government, the Ministry of Defence, or the Royal Navy.
***
CDR Caroline Tuckett is the lead legal adviser in International and Operational Law within the Royal Navy.
Photo credit: George Chernilevsky
RELATED POSTS
​Symposium Intro: Ukraine-Russia Armed Conflict
by Sean Watts, Winston Williams, Ronald Alcala
February 28, 2022
–
Russia's "Special Military Operation" and the (Claimed) Right of Self-Defense
February 28, 2022
–
Legal Status of Ukraine's Resistance Forces
by Ronald Alcala and Steve Szymanski
February 28, 2022
–
Cluster Munitions and the Ukraine War
February 28, 2022
–
Neutrality in the War against Ukraine
by Wolff Heintschel von Heinegg
March 1, 2022
–
The Russia-Ukraine War and the European Convention on Human Rights
March 1, 2022
–
Deefake Technology in the Age of Information Warfare
by Hitoshi Nasu
March 1, 2022
–
Ukraine and the Defender's Obligations
by Eric Jensen
March 2, 2022
–
Are Molotov Cocktails Lawful Weapons?
by Sean Watts
March 2, 2022
–
Application of IHL by and to Proxies: The "Republics" of Donetsk and Luhansk
March 3, 2022
–
Closing the Turkish Straits in Times of War
March 3, 2020
–
March 3, 2022
–
Prisoners of War in Occupied Territory
by Geoff Corn
March 3, 2022
–
Combatant Privileges and Protections
March 4, 2022
–
by Sean Watts
March 4, 2022
–
Russia's Illegal Invasion of Ukraine & the Role of International Law
March 4, 2022
–
Russian Troops Out of Uniform and Prisoner of War Status
by Chris Koschnitzky and Michael N. Schmitt
March 4, 2022
–
March 5, 2022
–
Providing Arms and Materiel to Ukraine: Neutrality, Co-belligerency, and the Use of Force
March 7, 2022
–
Keeping the Ukraine-Russia Jus ad Bellum and Jus in Bello Issues Separate
March 7, 2022
–
The Other Side of Civilian Protection: The 1949 Fourth Geneva Convention
by Jelena Pejic
March 7, 2022
–
Special Forces, Unprivileged Belligerency, and the War in the Shadows
by Ken Watkin
March 8, 2022
–
Accountability and Ukraine: Hurdles to Prosecuting War Crimes and Aggression
March 9, 2022
–
Remarks on the Law Relating to the Use of Force in the Ukraine Conflict
March 9, 2022
–
Consistency and Change in Russian Approaches to International Law
by Jeffrey Kahn
March 9, 2022
–
The Fog of War, Civilian Resistance, and the Soft Underbelly of Unprivileged Belligerency
by Gary Corn
March 10, 2022
–
Common Article 1 and the Conflict in Ukraine
March 10, 2022
–
Levée en Masse in Ukraine: Applications, Implications, and Open Questions
by David Wallace and Shane Reeves
March 11, 2022
–
The Attack at the Zaporizhzhia Nuclear Plant and Additional Protocol I
March 13, 2022
–
The Russia-Ukraine War and the Space Domain
by Timothy Goines, Jeffrey Biller, Jeremy Grunert
March 14, 2022
–
Fact-finding in Ukraine: Can Anything Be Learned from Yemen?
March 14, 2022
–
Status of Foreign Fighters in the Ukrainian Legion
by Petra Ditrichová and Veronika Bílková
March 15, 2022
–
Law Applicable to Persons Fleeing Armed Conflicts
March 15, 2022
–
March 17, 2022
–
The ICJ's Provisional Measures Order: Unprecedented
by Ori Pomson
March 17, 2022
–
Displacement from Conflict: Old Realities, New Protections?
by Ruvi Ziegler
March 17, 2022
–
A No-Fly Zone Over Ukraine and International Law
March 18, 2022
–
Time for a New War Crimes Commission?
March 18, 2022
–
Portending Genocide in Ukraine?
by Adam Oler
March 21, 2022
–
March 21, 2022
–
Abducting Dissent: Kidnapping Public Officials in Occupied Ukraine
March 22, 2022
–
Are Thermobaric Weapons Unlawful?
March 23, 2022
–
A Ukraine No-Fly Zone: Further Thoughts on the Law and Policy
March 23, 2022
–
The War at Sea: Is There a Naval Blockade in the Sea of Azov?
by Martin Fink
March 24, 2022
–
Deportation of Ukrainian Civilians to Russia: The Legal Framework
March 24, 2022
–
March 28, 2022
–
Command Responsibility and the Ukraine Conflict
March 30, 2022
–
The Siren Song of Universal Jurisdiction: A Cautionary Note
bySteve Szymanski and Peter C. Combe
April 1, 2022
–
A War Crimes Primer on the Ukraine-Russia Conflict
by Sean Watts and Hitoshi Nasu
April 4, 2022
–
Russian Booby-traps and the Ukraine Conflict
April 5, 2022
–
The Ukraine Conflict, Smart Phones, and the LOAC of Takings
by Gary Corn
April 7, 2022
–
April 8, 2022
–
Weaponizing Civilians: Human Shields in Ukraine
April 11, 2022
–
Unprecedented Environmental Risks
by Karen Hulme
April 12, 2022
–
Maritime Exclusion Zones in Armed Conflicts
April 12, 2022
–
Ukraine's Levée en Masse and the Obligation to Ensure Respect for LOAC
April 14, 2022
–
Cultural Property Protection in the Ukraine Conflict
by Dick Jackson
April 14, 2022
–
Results of a First Enquiry into Violations of International Humanitarian Law in Ukraine
April 14, 2022
–
Comprehensive Justice and Accountability in Ukraine
by Chris Jenks
April 15, 2022
–
Maritime Neutrality in the Russia-Ukraine Conflict
by David Letts
April 18, 2022
–
Cyber Neutrality, Cyber Recruitment, and Cyber Assistance to Ukraine
April 19, 2022
–
Defiance of Russia's Demand to Surrender and Combatant Status
by Chris Koschnitzky and Steve Szymanski
April 22, 2022
–
The Montreux Convention and Turkey's Impact on Black Sea Operations
by Adam Aliano and Russell Spivak
April 25, 2022
–
by Jay Jackson and Kenneth "Daniel" Jones
April 26, 2022
–
Litigating Russia's Invasion of Ukraine
April 27, 2022
–
Military Networks and Cyber Operations in the War in Ukraine
April 29, 2022
–
Building Momentum: Next Steps towards Justice for Ukraine
May 2, 2022
–
Counternormativity and the International Order
May 3, 2022
–
Destructive Counter-Mobility Operations and the Law of War
by Sean Watts and Winston Williams
May 5, 2022
–
May 9, 2022
–
The Ukraine Conflict and the Future of Digital Cultural Property
May 13, 2022
–
Neutral State Access to Ukraine's Food Exports
by James Kraska
May 18, 2022
–
Negotiating an End to the Fighting
May 24, 2022
–
Is the Law of Neutrality Dead?
May 31, 2022
–
Effects-based Enforcement of Targeting Law
by Geoff Corn and Sean Watts
June 2, 2022
–
U.S. Offensive Cyber Operations in Support of Ukraine
June 6, 2022
–
War Sanctions Steadily Degrade the Russian Maritime Sector
by James Kraska
June 7, 2022
–
The Atrocity Crimes Advisory Group & Ukrainian Prosecutions of Russian POWs – Part 1
by Chris Jenks
June 22, 2022
–
The Atrocity Crimes Advisory Group & Ukrainian Prosecutions of Russian POWs – Part 2
by Chris Jenks
June 24, 2022
–
The Atrocity Crimes Advisory Group & Ukrainian Prosecutions of Russian POWs – Part 3
by Chris Jenks
June 28, 2022
–
Putting "Overall Control" to the Test of the Third Geneva Convention
July 6, 2022
–
The Risk of Commercial Actors in Outer Space Drawing States into Armed Conflict
by Tara Brown
July 8, 2022
–
The Release of Prisoners of War
–
The Attack on the Vasily Bekh and Targeting Logistics Ships
–
Lessons from Syria's Ceasefires
–
Documentation and Investigation Responses to Serious International Crimes
July 13, 2022
–
Rebel Prosecutions of Foreign Fighters in Ukraine
by René Provost
July 15, 2022
–
Forced Civilian Labor in Occupied Territory
August 2, 2022
–
Forced Conscription in the Self-Declared Republics
August 8, 2022
–
Amnesty International's Allegations of Ukrainian IHL Violations
August 8, 2022
–
Oil Tankers as "Environmental Time Bombs," or Not
by Mark Jessup
August 12, 2022
–
The Escalating Military Use of the Zaporizhzhia Nuclear Plant
August 22, 2022
–
Protected Zones in International Humanitarian Law
August 24, 2022
–
August 19, 2022
–
Deception and the Law of Armed Conflict
September 8, 2022
–
Data-Rich Battlefields and the Future of LOAC
by Shane Reeves, Robert Lawless
September 12, 2022
–
Russian Crimes Against Children
by Oleksii Kaminetskyi, Inna Zavorotko
September 14, 2022
–
by Mehmet Çoban
September 16, 2022
–
Illegality of Russia's Annexations in Ukraine
October 3, 2022
–
Russia's Forcible Transfer of Children
October 5, 2022
–
The Kerch Strait Bridge Attack, Retaliation, and International Law
by Marko Milanovic, Michael N. Schmitt
October 12, 2022
–
Russian Preliminary Objections at the ICJ: The Case Must Go On?
by Ori Pomson
October 13, 2022
–
The Complicity of Iran in Russia's Aggression and War Crimes in Ukraine
October 19, 2022
–
Attacking Power Infrastructure under International Humanitarian Law
October 20, 2022
–
Dirty Bombs and International Humanitarian Law
October 26, 2022
–
Doxing Enemy Soldiers and the Law of War
by Eric Talbot Jensen, Sean Watts
October 31, 2022
–
Are Civilians Reporting With Cell Phones Directly Participating in Hostilities?
by Michael N. Schmitt, William Casey Biggerstaff
November 2, 2022
–
Using Cellphones to Gather and Transmit Military Information, A Postscript
November 4, 2022
–
State Responsibility for Non-State Actors' Conduct
November 4, 2022
–
Reparations for War: What Options for Ukraine?
by Luke Moffett
November 15, 2022
–
Further Thoughts on Russia's Campaign against Ukraine's Power Infrastructure
November 25, 2022
–
Russia's Allegations of U.S. Biological Warfare in Ukraine – Part I
December 2, 2022
–
Russia's Allegations of U.S. Biological Warfare in Ukraine – Part II
December 9, 2022
–
The THeMIS Bounty Part I: Seizure of Enemy Property
by Christopher Malis and Hitoshi Nasu
December 12, 2022
–
Classification of the Conflict(s)
December 14, 2022
–
The THeMIS Bounty Part II: Stealing Enemy Technology
by Christopher Malis, Hitoshi Nasu
December 16, 2022
–
The "I Want to Live" Project and Technologically-Enabled Surrender
by David Wallace, Shane Reeves
January 13, 2023
–
UN Peacekeepers and the Zaporizhzhia Nuclear Plant
January 20, 2023